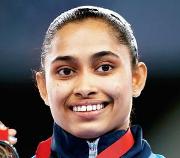 Dipa Karmakar :: Arjun Awardee



Tripura's golden girl Dipa Karmakar received prestigious Arjuna Award from President Pranab Mukherjee on National Sports Day August 29, 2015, the birth anniversary of Hockey Wizard Dhyan Chand.

President of India Pranab Mukherjee bestowed the award on her at Rashtrapati Bhawan. She was handed over statuettes, certificates and award money of Rs.5 lakh.

Gymnast Dipa Karmakar's achievements in Commonwealth Games as first Indian woman bronze medal winner is an inspiration to all young generation women athletes of India.

In a glittering function at the Rashtrapati Bhawan, President Pranab Mukherjee also handed out Arjuna awards to 2014 Commonwealth Games medal winning gymnast Dipa Karmakar.

Her coach Bisheswar Nandi said from Delhi over the phone, "We are grateful towards the people of Tripura for their love, support and above all, blessings. Though the people of India are oblivious to our state, Dipa's victory have held our heads high."

She earlier scripted history by becoming the first woman gymnast to bag the Bronze medal in the Commonwealth Games.

The Left Front government in Tripura has appreciated the Centre for selecting state's internationally acclaimed sportsperson Dipa Karmakar for Arjuna award. She is the first Indian woman gymnast to win a medal at the Commonwealth Games, 2014.

Sports minister Sahid Choudhury said the Union ministry of youth affairs and sports has given due recognition to Dipa and the state's endeavor to nurture talents against several odds.

She is the third Arjuna awardee from Tripura.