2-3 Feb 2006: Sapotara
Jangid Brahmin Samaj Seva Samiti, Tehsil- Sapotara (District- Karoli) organised First Samuhik Vivah Sammelan on 2-3 Feb 2006 at Meena Dharma Shala, Sapotara Road, Near Kalpana School. Sh. Kanti Prasad "Tiger" (Delhi) was the coordinator of this sammelan. Sh. Mahesh Chandra Jangid is President of Jangid Brahmin Samaj Seva Samiti, Sapotara.
Sh.Sita Ram Rawat(Goverdhanpura) Delhi was the president of Samuhik Vivah Sammelan.
Other Members of committee:-
Sh. Suraj Mal (Jeerota), Sh. Mool Chand (Khawda)--- Vice President
Sh. Murari Lal Jangid (Sapotara)---- MahaMantri
Sh. Bhagwan Sahai Adudiya (Sapotara)--- Cashier
Sh. Bharosi Lal (Gothda)--- Organisation Mantri
No. of Pairs: 33
Honorable Guests of Samaroh:
Sh.Kishan Lal Sharma (Industrialist, Nagpur) -- Flag Hosting
Sh.Ram Kishore Rawat (Dausa) -- Ganesh Pooja
Sh. Babu Lal Jangid (Hanuman Tube wel Co., Jaipur) -- Samaroh President
Sh. R. C. Sharma"Gopal" -- Mahasabha Chief Guest
Sh. Pooran Chand Sharma (Pradhan, Vishwakarma Education Trust,Delhi)-- Samajik Sammelan President.
Other guests were :
Sh. Babu Lal Panwar, Sh. Gajanand Deroliya, Sh. Ram Kishan Sharma(Delhi), Sh. Dhanna Lal Jangid, Sh. R.N. Dinesh, Sh. Shiv Prasad Sharma (DIG, Police), Sh. Mool Chand Bisayati, Sh. Mukut Bihari Jangid (SDM- Didwana)
9-10 Feb 2006: Samuhik Vivah Sammelan at Pushkar (Raj.)
Shri Vishwakarma Mandir Panchayat Pushkar (Raj.) has organised a samuhik Sammelan of 5 Pairs on 10 Feb 2006 on the occassion of Vishwakarma Jayanti Samaroh. In the election of Committee Sh. Chhitar Mal Duggeshwar was elected President. The following dowery was given to each pair:-
Golden Teeka, Golden Ear rings, Almirah, Single bed, Wooden Stool, Base for Bride, Sherwani and accessories, Sewing Machine, Silver Payjeb, Bed sheet, Pillow, Razai, Mattress, Nose ring, Ceiling Fan, Wall clock, Tiffin box, Steel Pot, Bhagoni and Chari, Brass Dekchi, Steel Jug, Steel Tank, Cooker, Neck-lace, Blanket etc.
10 Feb 2006: Shri Vishwakarma Jayanti Samaroh
Shri Vishwakarma Jayanti Samaroh were organised all over the country on 10th Feb 2006. Samaj candidates drive the Shobha Yatra at various places. The cultural activities were held at various levels. Samuhik Goth programmes were also held. Shri Vishwakarma Jangid Karmchari Samiti, Jaipur organised many competitions like Race, Drawing, Essay writing, Chess etc. Sh.Deep Chand Jangid(Industrialist-Gurgaon) was the Chief Guest of Programme. Prizes were distributed among the winners.
26 Feb 2006: Formation of AB Vishwakarma Chhatra Sangh, Jila Shakha, Sikar (Raj.)
Akhil Bhartiya Vishwakarma Chhatra Sangh, Jila Shakha, Sikar was formed on 26 Feb 2006.
Programme Chief Guest : Sh. Bhanwar Lal Jangid (President, Vishwakarma Vidyapeeth, Sikar) and Sh. Lumba Ram Vishwakarma(President,Akhil Bhartiya Vishwakarma Chhatra Sangh) .
Dr. R.C. Suthar was elected President of this Jila Shakha, Sikar(Raj.)
Vice President: Sh. Mahendra Kumar, Mahamantri: Sh. Vikram, Cashier: Dr. Rajendra Kumar, Organisation Mantri: Sh. Narendra Kumar, Sushil Kumar. Law Mantri: Sh. Ram Chandra, Secretary: Sh. Manish Kumar,. Co-ordinator: Sh. Rajendra Gadonda.
Free Eye care camp: Daru (Neemach)
At Daru Village near Neemach (MP) a programme of Free Eye care testing camp was organised by Jila Jangid Brahmin Mahila Mandal with the help of Gomabai Eye Hospital & Research Centre and Sight Savers International (UK). Sh. Suresh Sharma (Vice President, ABJB Mahasabha) was the Chief Guest of Programme. First of all, Lord Vishwakarma worship was done by Sh. Suresh Sharma, Sh. Nand Kishor Sharma(President), Sh. Heera Lal Sharma (Special Guest).
Samaj Ratna : Dr. Sukh Dev Suthar
Dr. Sukh Dev Suthar (Specialist Ortho, Vijayvallabh Hospital, Ranakpur Road, Sadadi, Pali, Raj.) was given Samaj Ratna honour on Shri Vishawakarma Jayanti, 10 Feb.2006.
"Mhari Akhateej" Film Shooting Completed
The Rajasthani Film "Mahari Akhateej" Shooting has been completed under the banner of Shri Shakati Films. The film's main motto is to remove social evil of Baal Vivah and uncover the problems of samaj. The Film Producer is Sh. Rajan Panwar, Writer and Director is Sh. Vinod Dutt, Film Actor Sh. Ashish Vyas, Reena Soni, Shrawan Choudhary, Raju Jangid, Mamta Soni, R.D. Bhati, etc. Sh. Badri Ram Jakhad (Congress, Leader) also acted for this film. Sh. Raju Jangid played the role of Hariya a vilion in this film.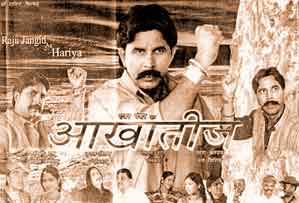 Parichay Sammelan : Triveni Dham, (Shahpura), Jaipur Raj.
On 26-March-2006 ,parichay Sammelan for 4th samuhik vivah sammelan is going to organised at Triveni Dham, (Shahpura), Jaipur(Raj.).